Available Commercial Properties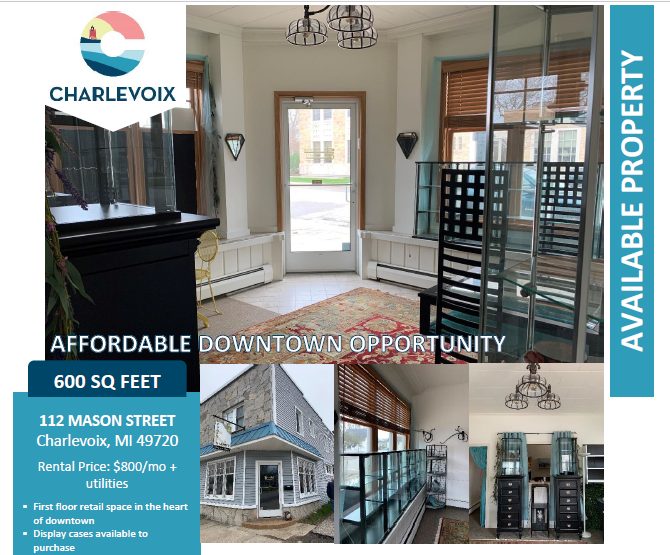 For Rent: 112 Mason St. - Price: $800/ month + Utilities

A rare opportunity for a retail or office space in the heart of downtown Charlevoix just steps away from bustling Bridge Street. $800/ month + utilities. Call for details: 231-675-0308.
Located on Mason Street across from the Visitor Center, this space is next to a Day Spa in other half of building. The space is divided into two rooms plus has a kitchen, bathroom, and storage area for inventory.
On-street parking in front plus a municipal parking lot to the East makes this spot easy to access for customers and employees. Click HERE for flyer.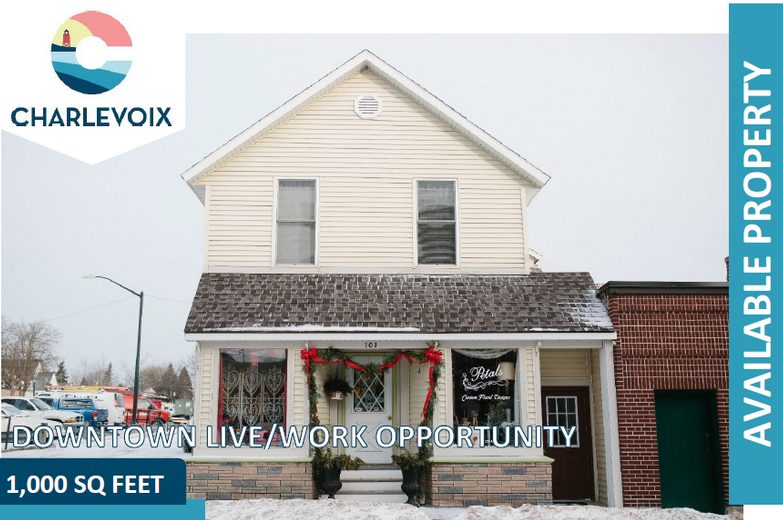 For Sale: 101 Mason St.

A rare opportunity for a retail space in the heart of downtown Charlevoix just steps away from bustling Bridge Street. Only the retail space is available - the apartment has been rented out. The retail space is cleaned out and ready to rent. Rent is $1,000 per month + utilities. 1,000 sq. ft. Contact Bertie Whitley at 231-547-6454 for more information.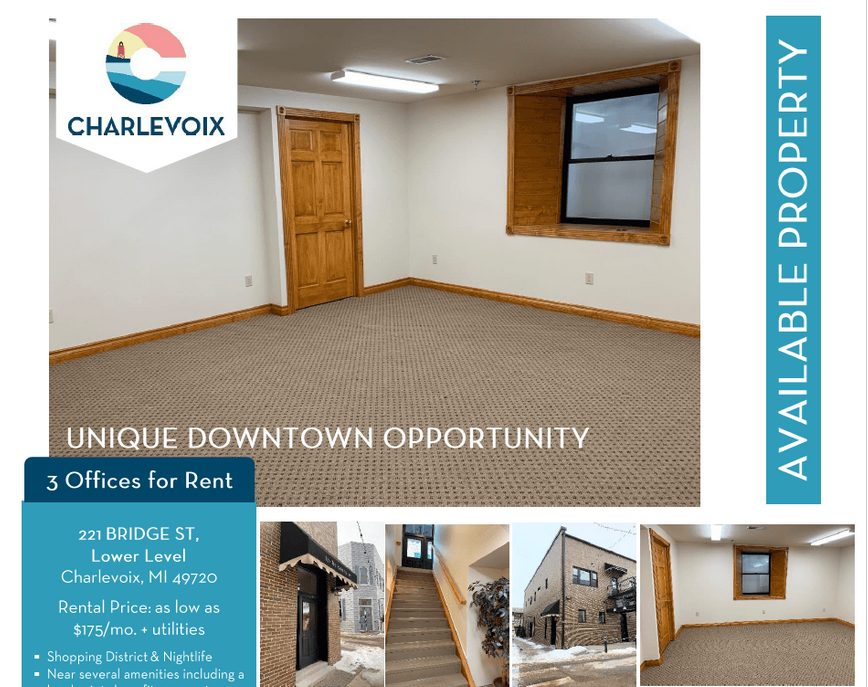 3 Offices For Rent: 221 Bridge St. - Rental Price: as low as $175/ month + Utilities

Three individual offices are available in the lower level of the Trademark Building! A shared entrance off of Van Pelt Alley, the space offers shared restrooms and has been recently renovated. Despite being underground these spaces have windows and get natural light. Offices can be rented individually or be shared, depending on needs.
Office #1 (largest of 3) $225 plus utilities
Office #2 $175 plus utilities
Office #3 $175 plus utilities
Work in the center of all the action! Your office will be steps from popular shopping & dining establishments along with services to fit your every convenience!
Interested? Contact building owner Fred DiMartino by calling 231-547-7511 or emailing trademarkpropertiesllc@gmail.com. Click HERE to see the flyer.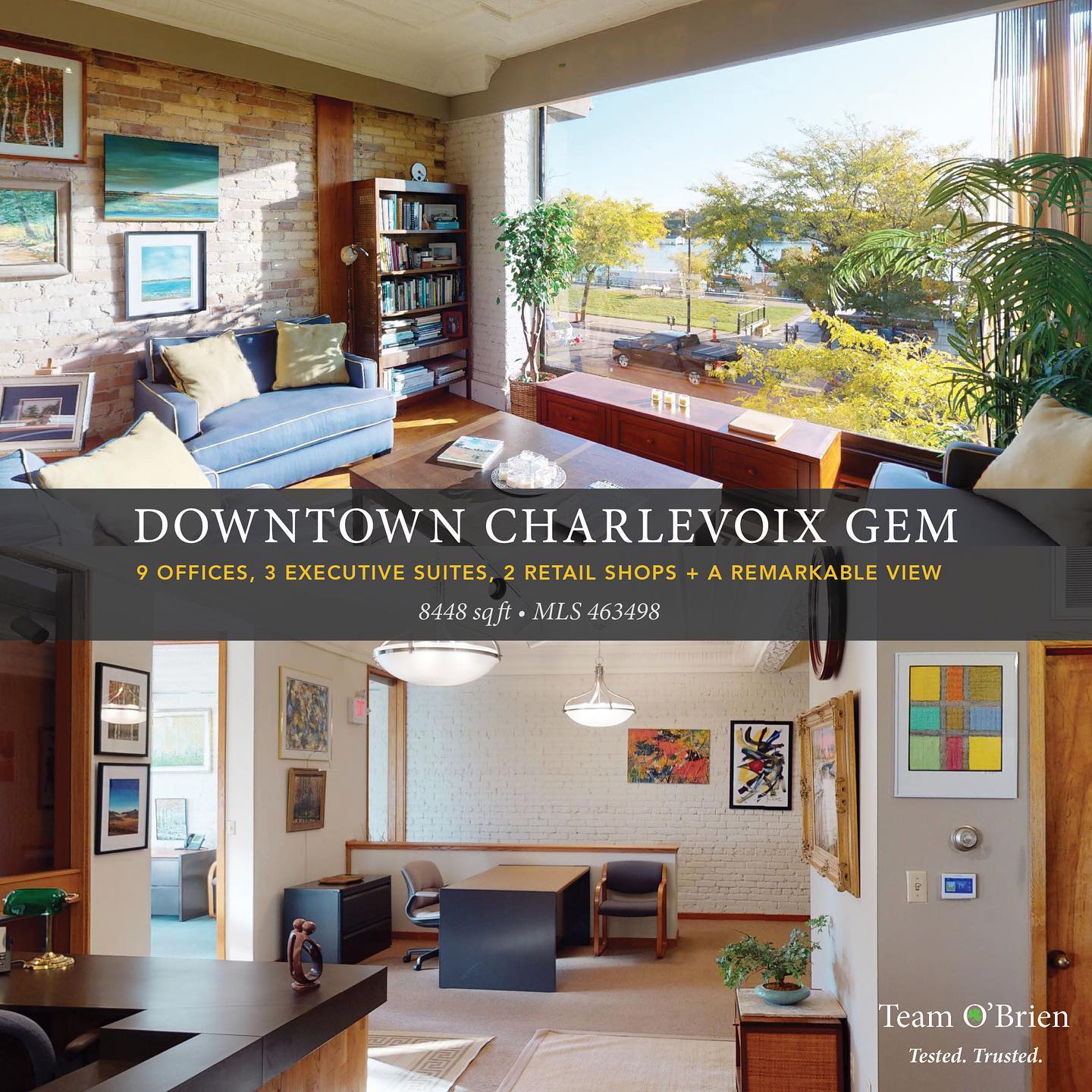 For Sale: 211 Bridge Street

The grand gem of downtown Charlevoix, the 211 Building is a landmark in the community. Built in 1915, this mixed-use property has housed many successful businesses and is known for its' architectural appeal. Two spacious retail shops are accessible from a welcoming foyer right off of bustling Bridge Street. The 2nd floor features floor-to-ceiling views of Bridge Street Park and Round Lake. With 9 offices, 3 executive suites and a spacious reception area, this is the ideal place to operate a remarkable business. The ornate stamped-tin ceiling, sturdy oak hardwood floors and exposed brickwork are reminiscent of classic architecture, and altogether provide the most charming place to conduct business in downtown. Click HERE for more information.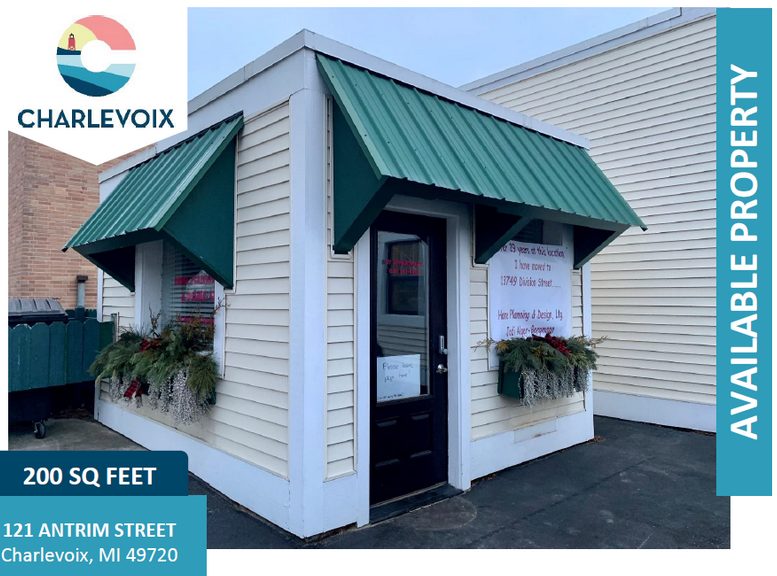 For Rent: 121 Antrim St. - Rental Price: $575/ month

An adorable private office space in the heart of downtown Charlevoix just steps away from bustling Bridge Street. $575/ month. Call for details: 231-675-7764 or email waystoneycroft@msn.com.
Located on the corner of Antrim and State Streets this location is in proximity to well-established businesses plus several special events and festivals throughout the year. Click HERE for the flyer.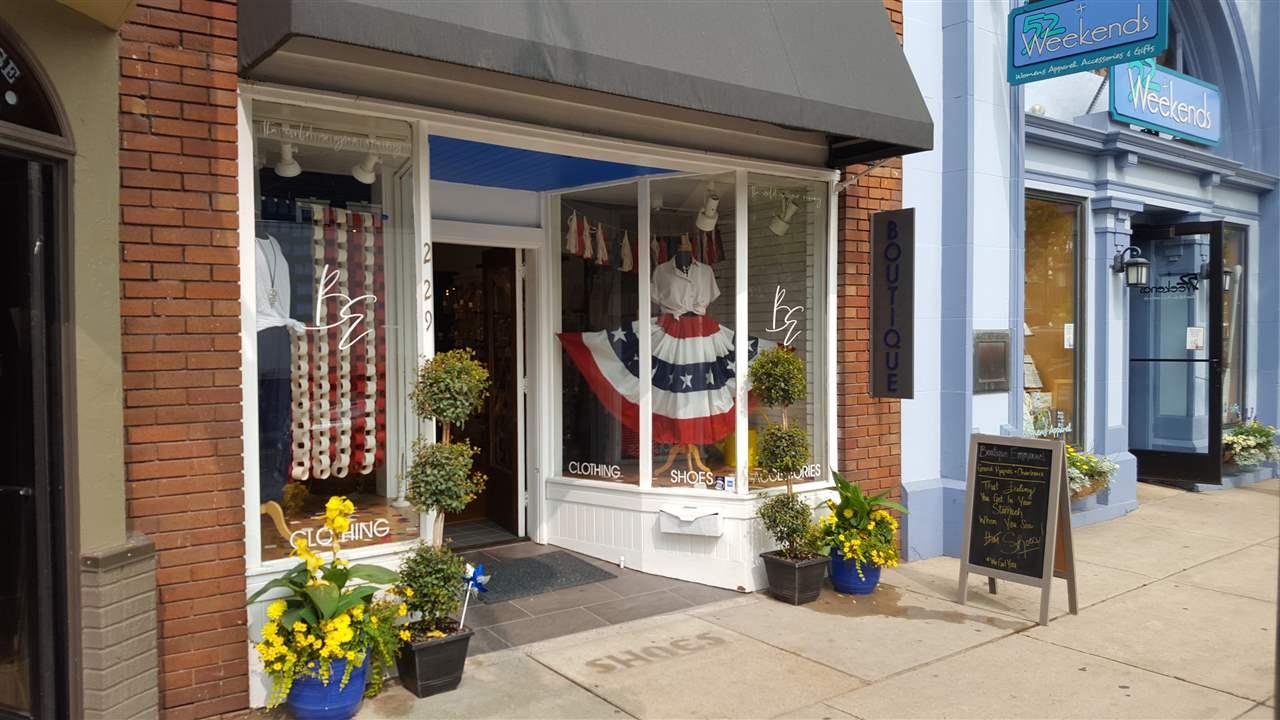 For Sale: 229 Bridge St. - Price: $378,000
Central Bridge St. Charlevoix, MI Retail Location. A Proven Retail Success for Generations. Perfect size of 1500 sq. ft. first floor Retail with lower level Storage of 1276 sq.ft. New 2018 Roof. Newly Painted. Updated Electrical & Trac Lighting. High Ceilings & Great Window Display. Refinished Wood Floors & Tile Entry. Shelving & a Large Safe are included. High Efficiency Heat & Air. A Very Rare Offering. Condos are allowed above to 40' with views of Charlevoix City Marina & the Performing Arts Park. A Must See. Contact Nancy Carey, 231.675.1234, ncarey1234@yahoo.com.
For Lease: 1418 Bridge Street Unit B
Price: $10-20 PSF Annually, $3,266-5,133 Monthly
Brand new 5,600 sq. ft. building with 194 ft. of frontage on Bridge Steet. Prime location for your retail business or office. Join local favorite Pigs Eatin Ribs Barbeque who will increase your traffic and visibility, also located next to McDonald's and Burger King. Suite B is approximately 35 ft. wide by 80 ft. deep consisting of 2,800 sq. ft. Lots of windows for great visibility and natural light. For more information on this property please click HERE!
For Lease: 6500-6600 M-66 North - $8-$10 per sq. ft.
Located just outside of downtown Charlevoix in the retail corridor, this center draws from a large geographic area with a great summer population.  More than 5,000 vehicles per day pass by this center, which has great visibility off of M-66. The Center currently has up to 96,000 sq. ft. available. Ownership will divide the space. Contact Warren Terrace at 248-352-5000 or wterrace@firstcommercial.net to inquire. For more information about this property click HERE.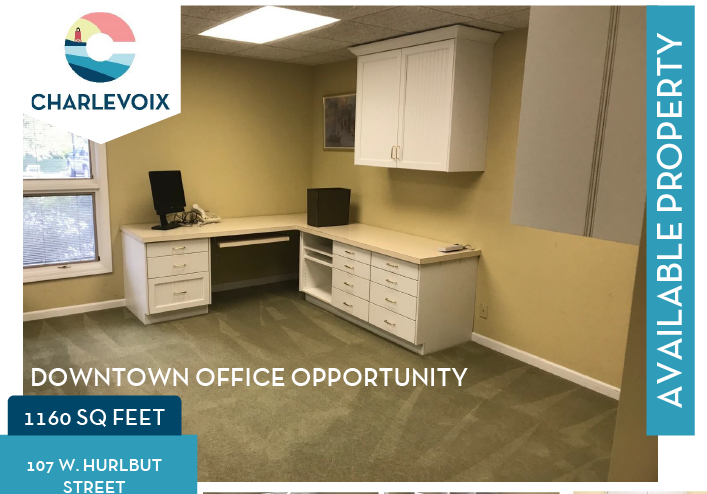 For Lease: 107  W. Hurlbut St. - Price: $1,200/mo
A spacious office of 1160 sq. ft. is available for rent in the heart of downtown Charlevoix. Located in a strip visible from Bridge Street with access to Hurlbut. $1,200/month plus utilities. Ample free parking is available in the parking lot along with great views of Round Lake. Nearby businesses include Lakeview Dentistry of Charlevoix and the Charlevoix Montessori Academy. Email dwkusina@gmail.com for details. More pictures and details click HERE.
DEVELOPMENT COMPANIES & COMMERCIAL CENTERS